Back
What Are the Current Mortgage Rates For Jumbo Loans?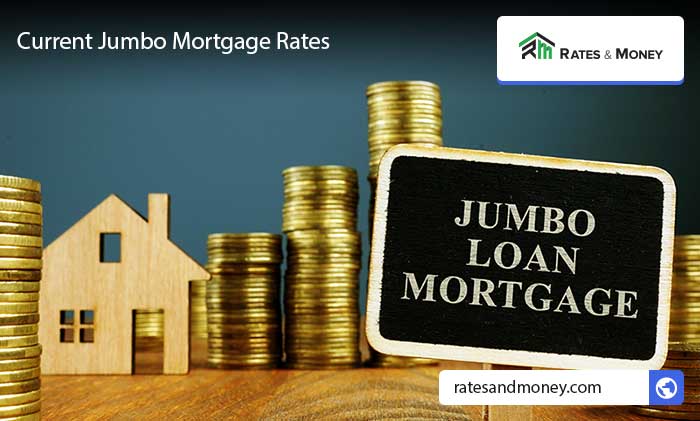 If you're buying an expensive home, you might need a jumbo loan to finance it. Jumbo loans are available to buyers who may need a higher loan amount to bridge the gap between their down payment amount and the purchase price of the home.
Do you need a jumbo loan? If so, what type of interest rate can you expect to pay for your mortgage? In this article, we'll discuss how jumbo loans work and whether or not you need one when it comes time to apply for a mortgage.
What Is a Jumbo Loan?
A jumbo loan is a mortgage that finances an amount exceeding the local conforming loan limit as determined by the FHFA. In other words, if the loan amount you require is higher than your county's conforming loan limit, the loan would be considered a 'jumbo loan'.
In most counties across the US, the maximum amount for a conforming loan is $647,200 for 2022. Any amounts above that limit are considered to be in jumbo loan territory.
Since jumbo loans cannot be backed by Fannie Mae and Freddie Mac, they're riskier for lenders. In the event that you default on your mortgage, the lender would not be protected from losses.
Like other loan types, jumbo loans are available with fixed or adjustable interest rates and a variety of terms.
Understanding Loan Limits
Loan limits for conforming loans reflect home prices. Every year, the FHFA adjusts its loan limit baseline according to how home prices behaved the year before. Generally speaking, when home prices increase, so do loan limits.
According to the National Association of Realtors (NAR), home prices across the country increased 16.9% in 2021. As such, the FHFA adjusted its loan limits for 2022 accordingly, which is why they're higher this year than they were in 2021.
Loan limits vary by county because some housing markets are much more expensive than others. For example, home prices in King County, WA, are currently over $857,000, while in Bonneville County, ID, they're just over $373,000.
That's a big price difference, which is why each county has its own conforming loan limit. Otherwise, homebuyers in more expensive markets would be more than likely to exceed conforming loan limits if they were the same as those in lower-priced markets.
How to Qualify For a Jumbo Loan
The criteria needed to be eligible for a jumbo loan may be more stringent because of the increased risk for the lender. Here's what you need to qualify:
Good credit score
Mortgage lenders may require your credit score to be at least 700 or more to be eligible for a jumbo loan.
Relatively low debt-to-income (DTI) ratio
Your debt-to-income ratio (DTI) is a measure of your gross monthly income that is dedicated to paying your current monthly debt payments. Lenders use your DTI to determine whether or not to approve your loan application. If it's too high, adding a mortgage to the mix could bring your debt load to an unsustainable level, which is a risk for both you and the lender.
Lenders typically cap DTIs at 45%, though you may be able to get away with a higher DTI if you have ample cash reserves.
Accessible cash
As mentioned, a healthy stash of cash reserves can help when it comes to getting approved for a jumbo loan. Lenders may ask you to show proof that you have enough money available to cover at least the first few mortgage payments.
Home appraisal
Lenders will want to have the subject property appraised to verify the current market value. That way, the lender can make sure that the value of the home is high enough to justify a jumbo loan.
Loan-to-value (LTV) ratio
A loan-to-value (LTV) ratio is a measure of the loan amount relative to the home's current market value. It's another figure that lenders use to determine the level of risk assumed by loaning out funds for a home purchase, the down payment amount required, and the interest rate.
A lower LTV ratio is better, as it reduces risk and increases your odds of getting approved for a jumbo loan. If your LTV ratio is too high, your lender may refuse to provide financing for your home purchase.
Current Mortgage Rates For Jumbo Loans
Like other mortgage rates, the rates that lenders charge for jumbo loans fluctuate on a daily basis. It's important for homebuyer hopefuls to keep their finger on the pulse of these changes so they understand what rates are available to them when they apply for a mortgage.
For illustration purposes, the following table lists today's average mortgage rates for jumbo loans:
| | |
| --- | --- |
| Mortgage Type | Interest Rate |
| 30-Year Fixed-Rate Jumbo Loan | 3.74% |
| 15-Year Fixed-Rate Jumbo Loan | 3.36% |
| 5/1 ARM Jumbo Loan | 3.13% |
It's also important to note that jumbo loan interest rates vary slightly across different states. For example, in the Pacific Northwest, the latest jumbo loan rates as of the last week of February 2022 are as follows:
State
Mortgage Type
Interest Rate
Washington State
30-Year Fixed-Rate Jumbo Loan

15-Year Fixed-Rate Jumbo Loan

5/1 ARM Jumbo Loan

3.79%

3.29%

3.03%

Oregon
30-Year Fixed-Rate Jumbo Loan

15-Year Fixed-Rate Jumbo Loan

5/1 ARM Jumbo Loan

3.81%

3.33%

3.20%

Idaho
30-Year Fixed-Rate Jumbo Loan

15-Year Fixed-Rate Jumbo Loan

5/1 ARM Jumbo Loan

3.80%

3.37%

3.15%

Colorado
30-Year Fixed-Rate Jumbo Loan

15-Year Fixed-Rate Jumbo Loan

5/1 ARM Jumbo Loan

3.75%

3.21%

3.15%
Jumbo Loan Trends
Jumbo loans have historically had higher interest rates compared to conforming loans. However, over the recent past, we've seen lower rates for jumbo loans than conforming loans.
Based on the higher risk that lenders assume with jumbo loans, it might make sense that they would charge more in the form of a higher interest rate. However, this isn't always the case.
Any difference between the interest rates between jumbo loans and conforming loans depends on the lender and the market conditions. Jumbo loans can be very competitive with market rates.
For instance, as of February 2022, the 30-year fixed-rate mortgage rate for a conforming loan is 3.85%, while the rate for a jumbo loan is 3.74%. A lower rate can make mortgages more affordable.
Jumbo loan originations also increased quite a bit in 2021 compared to the year before. Lower interest rates and soaring home price growth were primary drivers of this increase in demand.
Do You Need a Jumbo Loan?
If you're planning to buy an expensive home in a higher-cost area, then a jumbo loan might be needed.
For example, let's say you plan to buy a home in Bellevue, WA. Right now, the average home price in this city is $1,404,845, as per Zillow. However, the 2022 loan limit in King County, which is where Bellevue is located, is $891,250.
If you don't put a high enough down payment to cover this loan limit, you'll need to take out a jumbo loan to finance your purchase.
Ultimately, the price of the home you plan to buy and the down payment amount you can put forth will determine whether or not a jumbo loan is needed. Having said that, if you work with the right lender, buying a home with a jumbo loan could make more financial sense for you.
Ready to Apply For a Mortgage?
If you're ready to buy a home and need a mortgage to finance it, team up with an experienced loan officer to apply for a home loan today. Before you start searching for your new home, consider getting pre-approved for a mortgage to start the process!
Subscribe to our newsletter
Receive the latest news, tips, and free tools from Rates & Money.