Back
Loan Estimates: What Are They and Why Are They Important For Borrowers?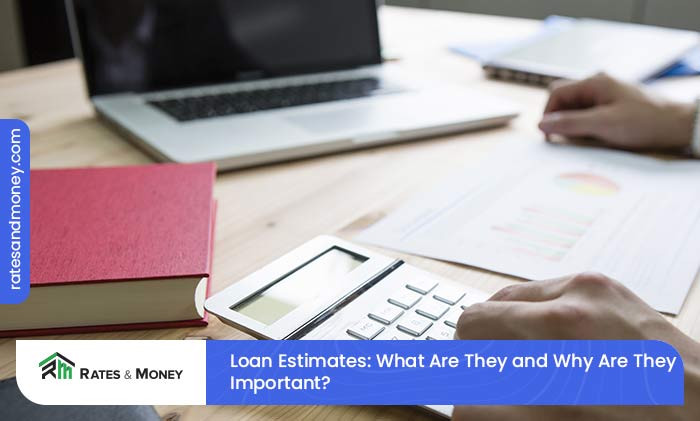 When you apply for a mortgage, you'll want to know exactly how much it will cost you overall. That's exactly why a Loan Estimate exists and it's something that every borrower should have access to before signing on the dotted line.
Loan Estimates are an integral part of the mortgage contract. These documents should be carefully reviewed by borrowers to make sure they're comfortable with all the costs involved. What exactly is a Loan Estimate, and why are they so important to borrowers?
Why is the Loan Estimate So Important to Buyers?
It's important for there to be transparency and honesty in a transaction that involves as much money as a home purchase or home refinance. Before a borrower fully commits to a lender, the borrower is entitled to know the terms of the loan the lender is offering.
The Loan Estimate aids in the borrower's ability to compare various mortgage lenders and help them decide on which lender is the best fit for them. If you're going to be paying hundreds of thousands of dollars towards a home purchase you need to be made aware of the interest rate, payment, and costs involved in the transaction.
That's exactly why a Loan Estimate exists, giving borrowers the ability to understand the total price of their mortgage upfront.
What Is a Loan Estimate?
A Loan Estimate is a uniform document all lenders must use that outlines all the important details of a mortgage loan. This 3-page form presents all the important information about a mortgage in an easy-to-read way for all borrowers to comprehend.
The information included in the Loan Estimate is presented in such a way that it makes it easier for borrowers to compare other offers from other lenders and gives borrowers a chance to make sure that everything is as expected. If not, the borrower has the opportunity to question the lender before committing to the mortgage.
Lenders are required by law to provide borrowers with a Loan Estimate within three business days of a mortgage application.
What's Included in a Loan Estimate?
The first page of the Loan Estimate includes fundamental information, including the following:
Lender's name and contact information
Applicant's name and contact information
Property address and purchase price
Loan type and term
Loan ID number
Loan estimate date
Rate lock information (if applicable)
Loan Terms
Details about the loan term are explained, including:
Mortgage amount
Interest rate
Monthly principal and interest payment
Prepayment penalty (if applicable, along with details)
Balloon payment (if applicable)
Whether or not the rate is locked or floating
Conventional versus government-backed loan
Projected Payments
More detail about your anticipated monthly payments are provided further down on Page 1 of the Loan Estimate, including your monthly principal and interest payment, and estimated closing costs. If you make a down payment of less than 20% of the purchase price of the home, this section will also detail the following:
Estimated monthly mortgage insurance payment
Estimated monthly escrow payment of property taxes and homeowners insurance
Related: How Much Can You Save? Try Our Debt Consolidation Calculator
Closing Costs
Your mortgage closing costs are itemized on the second page of your Loan Estimate, which gives you a clear picture of exactly how much money you'll need to have access to in order to finalize the mortgage. Closing costs typically include the following:
Section A – Lender Fees
Origination fees  The mortgage origination fee will be listed, which may include underwriting, processing, application fees, and discount points. Any lender fee must be included in this section.
Section B – Services You Cannot Shop For – These are third-party fees paid to services the lender chooses and are required to obtain a mortgage. Standard section B fees are listed below.
Appraisal fee. Lenders require that a home be professionally appraised to ensure the purchase price that the buyer agrees to pay matches the current market value of the home.
Credit report fees. Lenders will pull a borrower's credit report to assess their creditworthiness before loan approval.
Tax monitoring fee. This fee covers the cost associated with ensuring that you pay your property taxes each year.
Section C – Services You Can Shop For – These are third-party fees paid to services and can be chosen by you as you are not required to use the providers the lender chooses
Pest Inspection Fee A professional may visit the property to look for any signs of pest infestation that may compromise the integrity of the structure, such as termites and carpenter ants.
Survey fee. A survey will verify the boundaries of the property.
Title fees – Lender's Title Policy The title of a property will be investigated to ensure that the party selling the home is legally permitted to do so. The title will be searched for any liens, which will have to be cleared before the title is transferred from the seller to the buyer. Title fees also encompass title insurance to protect the lender against any potential future claims that may not have been discovered during the title search.
Settlement Agent Fee – This is an escrow company or lawyer that facilitates closing and ensures all funds are paid to the appropriate parties involved in the transaction.
Section E – Taxes and Other Government Fees
Recording Fees – Fees charged by the county to record your transaction.
Transfer Taxes. The local government where the house is located will charge fees when property ownership is transferred.
Section F – Prepaids – Prepaids is the section that shows the property taxes and homeowner's insurance premiums. These are based on the specific property's taxes and the homeowner's insurance policy from the insurance company you select.
The amount collected for prepaid items will be the same regardless of the lender you choose and what amounts they quote in this section. It is advisable not to use the numbers in this section to compare the costs of one lender to another.
Section G – Initial Escrow Payment at Closing – These are the funds collected to set up your escrow reserve account for property taxes and homeowner's insurance. A
Section H – Other
Owner's Title Insurance – Many lenders will put the Owner's Title Policy in this section as it's optional. As a buyer, it's advisable that you do obtain an Owner's Title Policy for your protection just like the lender's Title Policy above protects the lender.
Total closing costs. The Loan Estimate will tally up all closing costs, which should match the estimated closing costs outlined on the first page of the document.
Additional Information
The last page of the Loan Estimate offers an additional context in terms of the following:
Borrower's rights to the appraisal
Whether or not the mortgage may be taken over by another person with the same terms
Whether or not homeowner's insurance is necessary
Refinancing conditions
Future of loan servicing
Once the borrower signs the Loan Estimate, this signifies acknowledgment of receipt, though it doesn't mean that the borrower is necessarily accepting the loan.
Can a Loan Estimate Change?
Changes to the terms of a Loan Estimate are only allowed if there's a valid Change of Circumstance, which can include any of the following:
Seller concessions related to the total sales price of the home
Low appraisal
Changes in employment
Delays in closing
Changes to the loan type
Check out our 2022 loan limits page to find changes for the new year.
Talk to a Mortgage Specialist Before Applying
A Loan Estimate is a necessary part of the mortgage application process. That's why it's important for borrowers to speak with a seasoned Loan Officer (LO) from a reputable mortgage company before starting the house-hunting process.
An experienced LO will show you the best options available to you in terms of mortgages that best suit your needs and will offer you a quote based on these specifications. Once you receive your Loan Estimate, you can ask questions if you have any.
Most importantly, getting as much information about your mortgage as soon as possible will help avoid any unpleasant surprises and the need to have a Loan Estimate reissued later on. Apply for preapproval today, and talk to a qualified Loan Officer about your mortgage needs.
Subscribe to our newsletter
Receive the latest news, tips, and free tools from Rates & Money.