Back
Average Home Price: How Much Will You Pay For a Home in 2022?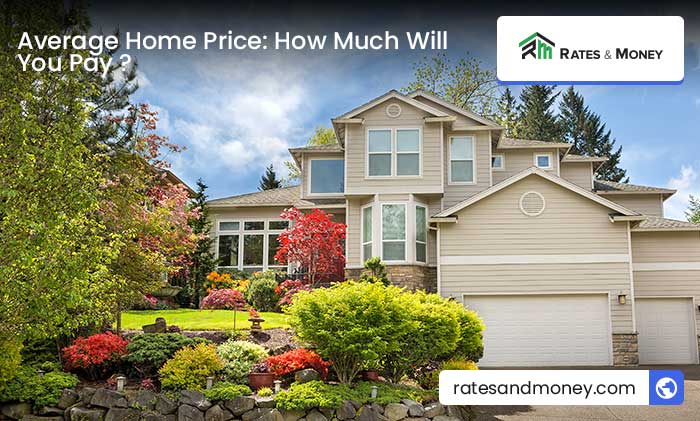 Last year was an eventful one for homebuyers looking to get into the market. Home prices soared and bidding wars were rampant in many housing markets, though mortgage rates remained relatively low. Buyers looking to get into the market this year might be wondering if things will mimic 2021.
Home prices are certainly more expensive right now than they were the same time last year. The question is, how much will you pay for a home in 2022? Will home prices continue to soar, or will price growth ease? Let's take a closer look at the market for 2022 in terms of housing prices.
The 2022 Housing Market Outlook
Last year saw mortgage rates on the rise and home prices through the roof. What will the 2022 housing market look like?
Mortgage Interest Rates Will Continue Rising
From late 2018 to the end of 2020, mortgage interest rates were on a decline. In fact, rates hit rock bottom a few times throughout 2020, giving homebuyers a great opportunity to lock in at a very low rate and make buying a home more affordable.
Since the start of 2021, however, mortgage rates have been on a slow ascent. During the first week of January 2021, the rate for a 30-year fixed-rate mortgage was 2.65%. Today, the rate has reached 3.92% with the majority of the move higher happening since the beginning of 2022.
According to industry experts, the rate is expected to inch up throughout the year. Freddie Mac anticipates the rate to average 3.7% in 2022, while the Mortgage Bankers Association forecasts the rate to reach 4% by the end of the year; however, given the recent pop in rates and inflation data rates are now expected to be higher.
Buyers will want to keep a close eye on mortgage rates, and they'll have a direct impact on the overall cost of buying a home.
Inventory Will Remain Tight
The low supply of housing that characterized the 2021 market across the nation will continue into 2022. Places like Seattle, WA, have less than a 1-month supply of available housing. That's far below the 5- to 6-month supply that we'd see in a balanced market. There simply aren't enough homes on the market to cater to prospective buyers.
Some hope the inventory situation could be alleviated somewhat with new builds. Building permits are on the rise, which is a good sign. According to the US Census' Monthly New Residential Construction Report, new housing construction building permits increased 6% from December 2020 to December 2021. Unfortunately population demographics and new household formations are still far higher than what's being built. Add to that increasing demand for investment properties both by individuals and large corporations, it's unlikely the inventory problem will improve anytime soon.
Average Home Prices Still Rising
The year 2021 saw a rapid increase in home prices, especially in certain centers across the nation. Home prices in Boise, Idaho, for instance, soared 26.8% over the past 12 months, and in King County, Washington, prices jumped 20.2%.
While that's great for homeowners who benefitted from an increase in home equity, it made home buying more of a challenge, especially for first-time homebuyers who don't have the proceeds of a previous sale to put towards a down payment on a new home.
Experts agree that home prices will continue rising this year, but by how much continues to be debated. For the past few months, industry experts predicted that although home prices would increase at a healthy pace in 2022, they wouldn't be as aggressive as they were in 2021. However, it's possible that the rate of price growth this year could mirror what we saw last year.
According to Zillow, home prices are expected to increase throughout the US by 17.3%. That's not too far off from the 19.9% increases we saw over the past 12 months.
Based on informal feedback from Realtors and Loan Officers on the ground the first two months of 2022 has seen a significant rise in home prices vs. just a few months ago.
Rising mortgage rates could play a factor in preventing prices from taking off. However, tight housing inventory could offset the effect of rising mortgage interest rates. While it's possible that the rate of home price growth could return to normalcy in 2022, that remains to be seen.
Most Expensive Cities Across the Pacific Northwest
The Pacific Northwest was certainly not immune to price increases. In fact, some of the more expensive centers in the country are located in Washington State, Idaho, Colorado, and Idaho. Here are a few of the more expensive cities across the PNW, according to Zillow:
Washington State:
Sammamish: $1,494,172
Bellevue: $1,404,845
Kirkland: $1,134,810
Oregon:
Bend: $731,546
Wilsonville: $616,135
Ashland: $578,091
Colorado:
Aspen: $2,659,788
Boulder: $1,012,326
Vail: $1,430,300
Idaho:
Ketchum: $1,142,081
Eagle: $882,155
Hayden: $882,155
Cheaper Options For Tighter Budgets
The above cities might be way out of your financial comfort zone, but there are plenty of other areas that aren't too far from these centers that may fit better within your budget.
Washington State:
Federal Way and Tacoma are both much more affordable cities that are roughly an hour away from Sammamish, Bellevue, and Kirkland. In fact, home prices are less than half of what you'd pay in these more expensive cities.
Federal Way: $568,255
Tacoma: $568,255
Oregon:
As an alternative to Bend, Wilsonville, and Ashland, you may want to look at the following nearby cities where home prices are much lower:
Redmond: $503,086
Beaverton: $539,699
Medford: $399,210
Colorado:
Colorado is known for its mountainous ranges where ski resorts abound. That's largely why places like Aspen are so expensive. However, Colorado is also home to areas with more subdued prices that are not too far from Aspen and Boulder, including the following:
Woody Creek: $564,745
Denver: $599,742
Idaho:
Cities like Ketchum and Eagle may be some of the more higher-priced places in Idaho, but the state is also home to much more affordable centers that are still within a comfortable commute, including the following:
Twin Falls: $358,831
Nampa: $423,051
Monthly Mortgage Payment Based on Average Home Price
Depending on where you plan to move in the Pacific Northwest, your mortgage payments can vary greatly. Let's take a look at the mortgage payments you'd be responsible for making every month in WA, ID, CO, and ID based on today's rate of 3.92% for a 30-year fixed-rate mortgage and a 20% down payment:
| | | | | |
| --- | --- | --- | --- | --- |
| State | Average Home Price | Down Payment Amount | Mortgage Amount | Monthly Mortgage Payment |
| Washington | $582,732 | $116,546 | $466,186 | $2,195 |
| Oregon | $492,101 | $98,420 | $393,681 | $1,854 |
| Colorado | $545,794 | $109,158 | $436,636 | $2,056 |
| Idaho | $459,043 | $91,808 | $367,235 | $1,729 |
Based on the chart above, you could potentially pay about $470 less to live in a more affordable state like Idaho compared to Washington State, based on today's current state averages.
Ready to Apply For a Mortgage?
If you're ready to buy a home and need a mortgage to finance it, team up with an experienced loan officer to apply for a home loan today. Before you start searching for your new home, consider getting pre-approved for a mortgage to start the process!
Subscribe to our newsletter
Receive the latest news, tips, and free tools from Rates & Money.