Back
Housing Market Forecast in Washington State: Update For 2022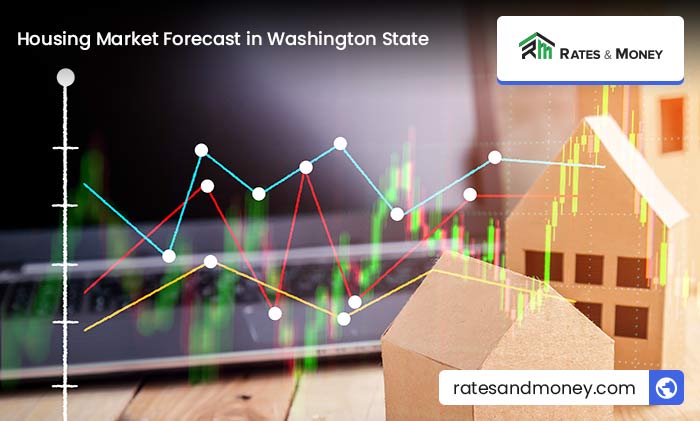 Home prices in Washington state have skyrocketed over the past year, driven largely by demand from prospective homebuyers. How will 2022 look in terms of housing? What is the housing market forecast in Washington for this year?
According to experts, Washington's real estate market will continue to be strong throughout the coming months. The market has been very hot over the past year, and is expected to be throughout 2022, though perhaps not as hot as it has been recently.
Home Prices Keep On Rising
As of this writing, the average home price in Washington State is currently $573,071. That marks a 23.2% increase over the past 12 months.
Homeowners who got into the market last year (or in years recently past) have benefited from a jump in home equity by simply buying a home and making timely mortgage payments.
Between late 2018 and the start of 2022, home prices have gone from upper $300K's to over $573,000, an astounding increase in value.
The rate of home price growth over the coming months may not be as rapid. Housing industry experts expect that home values will continue on a strong upward trajectory in 2022, but not as aggressively as they rose last year.
Low Mortgage Interest Rates Continue to Spur Housing Demand
One of the biggest drivers of the healthy housing market in Washington State has been the continued low-rate environment. Right now, the rate for a 30-year fixed-rate mortgage is 3.45%.
That's relatively low given where rates were just a few short years ago. In fact, the rate hit record lows multiple times throughout the course of 2021 and started last year off at a mere 2.65%.
Over the past few months, we've seen a gradual increase in mortgage interest rates. That said, experts agree that rates will continue to inch up this year. The Mortgage Bankers Association (MBA) expects the rate to reach 4% by the end of the year, and Freddie Mac forecasts rates to average about 3.7% in 2022.
Despite this slight increase, rates are still very low and they are projected to remain so over the next few months. Demand among homebuyers will continue to be strong, and will keep the housing market very healthy this year.
Inventory Will Remain Extremely Tight
Washington State's housing inventory continues to remain in a perpetual state of tight inventory. There simply aren't enough homes available for sale to accommodate buyers. The situation has been this way for a long time now and is expected to continue to be over the course of 2022.
Certain areas throughout Washington have particularly low housing inventory. For instance, Seattle only has a 0.43-month supply of homes available for sale to meet buyer demand, and the surrounding King County is even tighter at a mere 0.27-month supply.
Compare these numbers to a "balanced market" that's characterized by a 5- or 6-month supply of homes. This is a big driver of home prices.
According to RedFin, the number of homes for sale statewide plummeted 42.6% in 2021. Clearly, there aren't enough homes to go around to meet the ongoing demand, which is a trend that is expected to continue throughout 2022.
Demand For Housing Will Stay Strong
The recent health crisis has caused many homeowners in Washington State to re-evaluate their needs when it comes to their homes. Many workers have transitioned to a work-from-home model, whether on a full-time or part-time basis, and this trend does not seem to be slowing down. In fact, remote workers seem to be an arrangement that will stick around for the long haul.
Many people are looking to relocate in an effort to find a home that allows for home office space. Larger homes in the suburbs can afford people with more room for a similar price for a much smaller home closer to the city center. This caused a spike in demand in real estate markets across Washington State over the past couple of years and will continue to do so throughout this year.
Spokane Will Continue to Be One of the Hottest Markets in Washington State
When it comes to the hottest real estate markets in Washington — and the country as a whole — Seattle has often been among the top. It still is a pretty healthy market right now, with the average home price in the city having increased by 12.1% over the past year, according to Zillow. Currently, the average home price in Seattle topped $900,000.
Having said that, there is another housing market in Washington State that is even hotter: Spokane. Located 279 miles from Seattle, Spokane has an average home price of $378,701. That's 28.4% higher than what it was the same time last year.
Home prices have soared in Spokane thanks to sky-high demand among homebuyers. Despite the increase, home prices in Spokane are still very affordable compared to other WA cities. Residents can still take advantage of a high quality of life and a great job market without having to be stuck with massive mortgages to afford a home.
These characteristics will continue to spark interest in Spokane among buyers looking to get into the housing market in Washington State.
Ready to Apply For a Mortgage?
If you're ready to make a home purchase and need a mortgage to finance it, team up with a seasoned loan officer with a reputable mortgage today. Even before the home search begins, consider getting pre-approved for a mortgage to get the process started!
Subscribe to our newsletter
Receive the latest news, tips, and free tools from Rates & Money.