Back
An Overview of the Fannie Mae HomeStyle Loan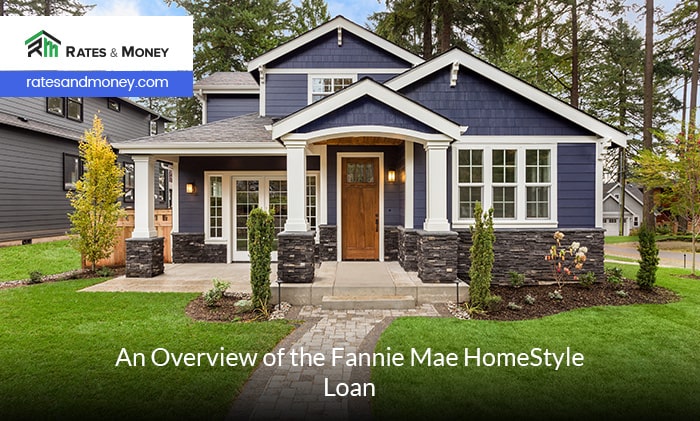 Want to buy a fixer upper, but don't have ready cash to make your dream home… dreamy? A Fannie Mae Homestyle loan could be exactly what you need to turn your vision into reality. If you're shopping for a mortgage, you should look into this possibility. Here's how it works.
What is the Fannie Mae HomeStyle loan?
This type of loan is a combination mortgage and home improvement loan. It allows homebuyers to borrow both the money to buy (or refinance) a home and the money to renovate it, all in a single loan with just one monthly payment.
The difference between a HomeStyle loan and a construction loan
A construction loan is designed to help you cover the cost of building a completely new home on a plot of land, whether it's acreage or a city lot. The construction loan is a short-term loan that is expected to be converted into a regular mortgage loan as soon as construction is finished.
The difference between a HomeStyle loan and a second mortgage
A second mortgage, also known as a home equity loan, allows you to take out a secondary mortgage on your home against the equity you have built up. You can use these funds to renovate your home or pay for anything else. You'll have a second mortgage payment every month. You can have a second mortgage through a different lender than the one who holds your primary mortgage.
The difference between a Homestyle loan and a home equity line of credit
A home equity line of credit (HELOC) is a revolving line of credit that lets you access funds for home repairs or other purposes, pay it back, and borrow again. It's used like a credit card, and you'll have a separate payment for it every month. Your HELOC can be supplied by your original lender or a new one.
Who Provides Fannie Mae HomeStyle Renovation Loans?
You don't get a HomeStyle loan directly from Fannie Mae, but they will end up owning it. Fannie Mae is a government sponsored entity that buys mortgages from banks, taking debt off of their books and keeping them liquid for a better national economy.
Since the mortgages are bought almost immediately from the bank, your lender doesn't carry as much risk as they do with a loan they service for the entire loan term. This makes it easier for banks to make more loans to people who are considered high-risk, such as borrowers with low income or shaky credit.
There are lots of loans that are considered "Fannie Mae" loans because they are the type that is almost certain to be purchased after closing. There are also loans that are specifically designed by Fannie Mae for lenders to offer, with the understanding that they will be purchased after the lender completes the loan. The HomeStyle Renovation mortgage is one of these types of loans.
How a Fannie Mae HomeStyle Loan Works
To get a Fannie Mae Homestyle Renovation loan, you'll have to work through an approved lender. You'll be loaned the purchase price of the home, plus the funds needed to make renovations. The renovation funds part of the loan is limited to 75% of the lesser of the purchase price plus renovation costs, or the completed appraised value.
This means that when the home is appraised, the appraisal will be for the anticipated value of the home "as completed," after your proposed renovations are finished, not the value of the home "as is." That difference makes it possible to buy a cheap fixer-upper with "great bones" and restore it, raising its value significantly, or to refinance an aging home and renovate it.
Requirements for a Homestyle Renovation loan
You'll need a minimum credit score of at least 620 to get HomeStyle Renovation financing, and loan limits apply. A debt-to-income (DTI) ratio of 45% or less is required to meet qualifications. Your down payment can be as low as 5% or even 3% for a single-family home (the down payment can be higher for other types of properties).
The loan to value (LTV) ratio maxes out at 97% for the mortgage part of the loan, but the total loan amount (mortgage plus renovation funds) can total up to 105% of the "as-completed" appraisal. You'll have to purchase private mortgage insurance (PMI) as is typical for any loan amount higher than 80% of appraisal.
What types of properties qualify for a HomeStyle loan?
The most common type of property approved for a Homestyle renovation loan is the standard, one-unit single-family detached home. However, you may be able to get approved financing for a townhome, condominium, multi-unit home (duplex, triplex, or quadruplex), or a one-unit second or investment property.
How HomeStyle Renovation loan funds are disbursed
When you get a Homestyle loan, the proceeds are disbursed in two ways. First, the money to purchase the actual home is disbursed at closing, like any mortgage. Then Fannie Mae typically purchases the loan. After that, the renovation funds are disbursed to your approved contractor(s), but only after certain conditions are met.
The contractor can submit requests for draws against the renovation funds, which are kept in escrow. The first request can be for 50% of the proposed work, to cover materials. Every step of the process requires monitoring, and at the end of the process, an inspection will confirm the work was done before the final draw is disbursed.
You may need to have approved architects and contractors create and submit plans for the renovation before your loan is approved.
Using Your HomeStyle Renovation Funds
There are not very many restrictions on how funds are used as long as they improve your home and increase its value. The main requirement is that all repairs must be completed within 12 months of obtaining the loan. You can use your renovation funds for projects like:
Landscaping, siding, or a new roof
New floors, drywall, room partitions, or painting
A kitchen or bathroom remodel
Upgrades to electric, plumbing, or HVAC systems
Finishing a basement or adding a connected suite
You can do some of the work yourself, but a maximum of 10% of the completed appraised value can be used for DIY work. You also can't use renovation funds to tear a home down and build a completely new structure. Furnishings are off-limits, as are any other nonstructural fixtures.
If the home isn't habitable, or construction work will render it so, you can request draws for expenses related to renting a place to live while the renovations are being completed.
Refinancing With a HomeStyle Loan
If you already own your home, but it needs repairs, you can use a HomeStyle loan as a way to refinance. This is typically a lot cheaper than trying to get a personal loan or open a HELOC. You can roll your home renovation costs right into your refinance, and get started on repairs immediately. The same types of credit score and DTI requirements apply.
Alternatives to a HomeStyle Loan
You may also look into the Freddie Mac CHOICERenovation loan, which is for mortgages purchased by Freddie Mac instead of Fannie Mae (these are usually loans through larger commercial lenders rather than smaller banks.)
You can also inquire about the FHA 203 K loan, which provides renovation loans as an option for qualified borrowers. However, these loans have many more restrictions than HomeStyle when it comes to covered repairs and home improvements.
The FHA 203 K loan also may require you to have PMI for the life of the loan, while a HomeStyle loan can allow you to drop off the requirement after you reach 20% equity against the appraised completed home's value.
Rates & Money is your go-to destination for free information about mortgages. Our home buyer guides and home loan articles are designed to help you make informed decisions when buying a home. View loan limits in your area.
Subscribe to our newsletter
Receive the latest news, tips, and free tools from Rates & Money.